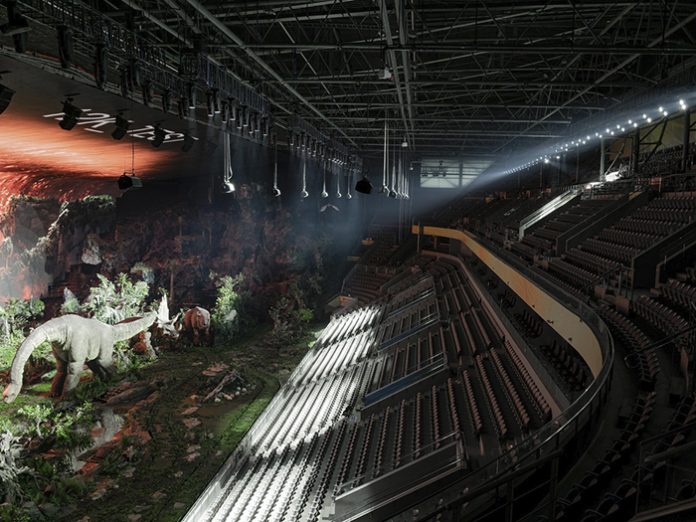 Amadeus has announced the install of over 180 of their speakers in the 10,000-square meter space of the Beijing National Indoor Stadium used for The Long Gone Dinosaur project to be opened in 2019, and featuring state of the art technologies. The gigantic show – which plans to be open to the public for the next 15 years – has been designed for and constructed within the Beijing stadium, part of the Olympic Park constructed for the 2008 Summer Olympics.
The Long Gone Dinosaur show was created as an educational event for children and adults to tell the story of the rise and fall of the dinosaurs 65-million years ago. It is one of the most technically advanced and largest shows ever created and includes forests, a lake, a mountain, rain, immersive sound, and life-size robot dinosaurs that move around the stadium space on a hidden rail system. In addition to the three-dimensional 'realistic' indoor landscape, a massive, curved 150-meter wide by 30-meter high screen running at 12K resolution adds to the sense of being in the time of the dinosaurs and their environment.
Amadeus worked closely with sound engineers, sound designers, and artists connected with prestigious French musical, theatrical and research institutions including Théâtre National de Chaillot, La Gaîté Lyrique, and STMS Lab (Sciences et Technologies de la Musique et du Son), located in Paris, and supported by CNRS (National Center for Scientific Research), Sorbonne University, French Ministry of Culture, and IRCAM (Institut de Recherche et de Coordination Acoustique/Musique).
"The success of this project cannot be separated from the teams who designed, imagined, implemented, created, and composed using the products and technologies that we installed. This project is a great joint and global success, a shining example of the rare 'savoir-faire' and technical skills that we have in France," said Gaetan Byk, Marketing Manager at Amadeus.
"From the beginning of the project, we decided to create a strong team, including people with complementary talents, sensibilities, experiences, and careers; most of them coming from prestigious French institutions, including Marc Piera (Théâtre National de Chaillot), Jean-Marc Harel (La Gaîté Lyrique), Guillaume Jacquemin (Buzzing Light), Johan Lescure, Clément Vallon, and Thierry Coduys – who has acted as the sound engineer for some of the most acclaimed modern composers including Pascal Dusapin, Karlheinz Stockhausen, Philip Glass, Steve Reich, and Luciano Berio among many others," added Gaetan.
Jean-Marc Harel from Paris-based Theater La Gaîté Lyrique was in charge of managing the on-site installation of the Amadeus speaker systems, in terms of rigging, safety rules, audio simulations, and calculations. Marc Piera from Paris-based Théâtre National de Chaillot was in charge of aligning the whole speaker system, using EQ and other techniques.
"Offering the audience a clear, audible and intelligible sound has been our biggest challenge, considering the high reverberation time of the venue (which is about 4.0 seconds without an audience), the large quantity of reflective surfaces, and the different types of speaker technology; including point source speakers, line array speakers, horn-loaded subwoofers. We mainly worked with the dispersion properties of the speakers, rather than the EQs. Optimizing the positions in the X, Y and Z axis, as well as aiming the speakers in order to minimize the reflections have been a major part of the whole system alignment," stated Marc Piera.
Amadeus also worked closely with its Chinese distributor, Guangzhou SignKing ET Co., Ltd. "Besides the history of dinosaurs, the experience of seeing the show is also designed to help the public find their love of nature and the world itself, " said Wymen Wong, Executive Director of the Guangzhou SignKing ET Co., Ltd.
The speaker system is based on two main frontal 'speaker antennas' working on the WFS (Wave Field Synthesis) principles. The upper one features 8 clusters, each one including four DIVA XL line array systems paired with one DIVA XL SUB. The bottom antenna features 13 clusters, each one including five DIVA XS line array systems paired with one DIVA XS SUB. The left and right side surround zones are covered by four arrays (2 per side) each one including four DIVA XL line array systems paired with one DIVA XL SUB. In addition, 32 'UDX 15' point source speakers are used as top surround loudspeakers.
A quantity of 12 MAESTRO II horn-loaded subwoofers is used for low-frequency effects (LFE). The Amadeus MAESTRO II subwoofer takes a revolutionary step forward in subwoofer technology and design with a unique combination of both low-power handling capacity and ultra-high-efficiency with dual high-linear excursion 15-inch horn-loaded speakers mounted in a push-pull mode.  At the Beijing Stadium, only 12 subwoofers are paired with 2 Lab Gruppen C88:4 amplifiers offering a maximum SPL 155 dB at 25 Hz. The MAESTRO is the brainchild of Amadeus working with entertainment technology providers to minimize overall costs while maximizing the sonic quality and the tonal balance homogeneity for long throw and sound pressure level less than 50 Hz.
The nine life-size dinosaurs represented include two each of Brachiosaurus, Tyrannosaurus Rex, Triceratops, Quetzalcoatlus, and one Deinosuchus. The dinosaur robots were built over a 3-year period in a shipyard equipped to handle the size of the mechanical beasts, the Brachiosaurus is 13-meters – over 40 feet – tall. The design team included engineers from Germany, Greece, and China.
Thierry Coduys along with Guillaume Jacquemin, Johan Lescure, and Clément Vallon visited China several times to create the sound design in accordance with the scenographer and producer's demands, as well as for mixing and spatializing the whole audio content. The team combined classical music with hundreds of sound effects including rain, thunder, wind, storms, meteor strikes, waves, and many other sounds.
"We decided from the beginning to work with our own sound materials, which are based on our own original recordings, and then we enhanced them using different modular synthesis systems. A few parts of the sound material was recorded using Ambisonics recording techniques," said Thierry.
"We have been using Amadeus' spatial sound processor Holophonix to mix and reverberate sound material, played from a Pro Tool HD sequencer, using highly advanced 2D and 3D sound algorithms designed at IRCAM-based STMS Lab. The Holophonix setup featured a combination of six spatialization buses, each one running one of the different sound algorithms available, including Higher-Order Ambisonics (2D, 3D), Vector-Base Amplitude Panning (2D), and Wave Field Synthesis," added Thierry.
The graphical open-source sequencer IanniX was used to design and write spatial trajectories in a 3D space with direct manipulation of the sound and music score. The audio creation was encoded using Holophonix and then recorded on a 64-channel digital multitrack recorder/player from Tascam.