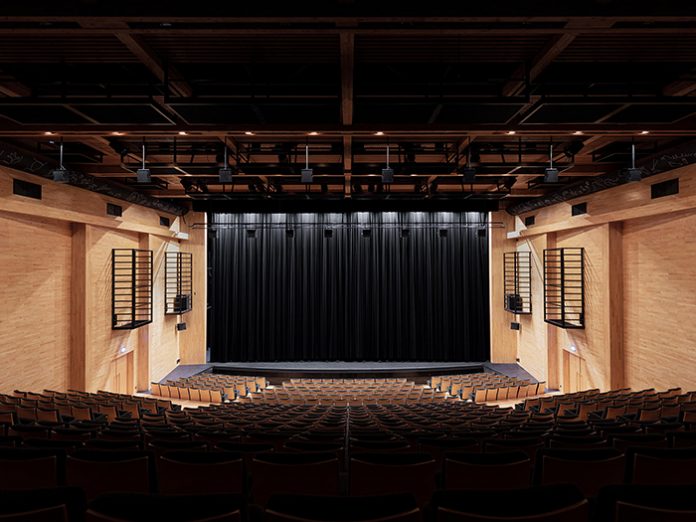 Amadeus has announced the install of a unique immersive sound system for Le Préau, the National Drama Center in Normandy-Vire, France. The newly designed system utilizes a three-speaker 'antenna' system, controlled by the company's HOLOPHONIX spatial sound processor, and offers much higher accuracy of sound localization for the audience in the theater environment.
Le Préau has a mission of artistic creation, dissemination of these creations in regional and national territories, and artist-in-residence programs. The Center has been directed by Lucie Berelowitsch since January 1, 2019.
In France, National Drama Centers (NDCs) are emblematic institutions of the dramatic decentralization policy pursued by the State for seventy years – the first five centers were created between 1946 and 1952. As creative and production entities run by one or more artists involved in the theatre field, NDCs are major structural tools for the design, manufacture, and production of French theatrical works, all in a spirit of openness and sharing.
NDCs are places where all the dimensions of theatre can meet and be articulated: research, writing, creation, dissemination, and training. For each NDC, a contract of dramatic decentralization is concluded between the Minister in charge of Culture and the director of the labeled structure, defining the commitments of each Party for the implementation of theatre creation missions of general interest within the framework of the objectives defined in the terms of reference and specifications of the NDC.
The 38 National Drama Centers are spread over the entire French national territory and are resolutely committed to broadcasting theatre to the widest audience. Each season, they welcome more than one million paying spectators.
"Le Préau is a place of creation and sharing, with a strong artistic permanence, to ensure a contemporary creation articulated around awareness and transmission, capable of covering its territory and opening up to the national level and ultimately to the European and international levels," says Lucie Berelowitsch.
The 'Main Hall' at Le Préau has a capacity of 590 seats, installed over a 22-meter depth and 18-meter width.
The electro-acoustic sound reinforcement system designed for the National Drama Centre of Normandy-Vire by Amadeus – in accordance with Technical Director Alexandre de Monte and Director Lucie Berelowitsch – offers very high accuracy of sound localization for the audience as well as high audiovisual correlation.
"The sound system of our 'Grande Salle' (Main Hall) has been installed in 1996. It was high time for a major investment in this technical domain, to replace our system. The project began in 2018," says Technical Director Alexandre de Monte.
"Lucie Berelowitsch, Manager at Le Préau and Stage Director, as well as the production sound designers collaborating with her, already had a very 'spatial' approach to sound creation. It was natural to choose this type of technology, which is furthermore booming these days. We were encouraged in this choice by the successful and proven experiences initiated by several colleagues, mainly at the Théâtre National de Chaillot, but also the Comédie Française, La Scala, Les Champs Libres, Thélème, and Radio France," adds de Monte.
The audio setup is built around a HOLOPHONIX spatial sound processor, designed by Amadeus in collaboration with IRCAM Institute (Institute for Research and Coordination in Acoustics/Music).
The implemented immersive sound solution uses the Wave Field Synthesis (WFS) technology. Like visual holograms, this 'holophonic' process captures or creates a sound stage by preserving spatial information. This technique allows the creators to replicate the sound field's physical properties. Wherever they are in the theater, the listener in the audience has a coherent perception of the audio sources' localization.
"I enjoy working on this system. It responds well. It is very 'clear', without aggressiveness," says Mikael Kandelman, a sound engineer who has worked closely with Director Lucie Berelowitsch for many years.
"I can work at very low and very high sound pressure levels without any problem. Object-based mixing in WFS is quite astonishing, especially with functions related to bus reverbs or source 'width'. We indeed have the feeling of being able to 'thicken' quite accurately the sound masses on the stage. This makes it a very promising creative tool that I look forward to testing again," concludes Kandelman.
The 'main' audio system is composed of three 'antennas' (or arrays) of Amadeus loudspeakers.
The first 'antenna' is made of eight Amadeus C15 (1 by 15'' LF; 1 by 3.5'' MF; 1 by 1.75" HF) triaxial speakers, flown above the front of the stage. These loudspeakers are evenly spaced across 15-meters with identical spacing between each speaker in the array.
The Amadeus C15 speaker is based on a 3-way point source transducer featuring a 15-inch woofer. The C15 also features two neodymium diaphragm compression high-frequency drivers, coaxially mounted with a single acoustical output, and coupled to an individual waveguide. It includes a unique diffraction horn, optimized to offer a vertical dispersion of 60° and a horizontal dispersion of 90°, which can be inverted by rotating the system 90-degrees. This type of load ensures perfectly uniform coverage and excellent spectral quality throughout the whole listening area.
The tweeter in the new C15 features a unique combination of extended frequency response, high efficiency, and wide dispersion pattern. The driver is a 2-way system, employing two concentric annular ring diaphragms. Each driver covers a smaller frequency range for increased power handling, with high dynamics and extremely low distortion. The larger annular midrange diaphragm, featuring a 3.5-inch (90mm) voice coil, covers the frequency range between 800 and 6500 Hz with a smooth, linear response. The ultra-light annular diaphragm for the high range, featuring a 1.75-inch (45 mm) voice coil, which offers exceptional transient response with very high efficiency from 6,000 to 22,000 Hz.
The second 'antenna' is made of 24-point source transducers built into the front of the stage. These 24 loudspeakers, variants of the Amadeus PMX 5 model, form a large-scale 'sound ramp'. They are evenly distributed across 16-meters, with 66-cm between each adjacent speaker. This speaker setup has been specifically designed for the National Drama Centre of Normandy-Vire by Amadeus.
Each 'module' is based on 2-point source speakers, inherited from the Amadeus PMX 5 (1 by 5.25'' LF; 1 by 1.75'' HF) reference, for a total of 24 transducers. The front panel is angled at 19° matching the bleacher's curvature of the audience seating, allowing an acoustical center of each speaker aiming the last row of seats.
Fixed in front of the curved proscenium, this large-scale front-fill system with limited depth offers three main functions: It naturally allows for perfect sound coverage of the lower half of the audience. It allows the sound image to be lowered, to bring back sound coming from the stage, and thus to maximize the accuracy between sound and visual images. Finally, this high-density of loudspeakers offers very high spatial resolution, making their location almost imperceptible to the audience, as well as the presence of other sound reinforcement.
This front-fill system can be disassembled in a few minutes, in case of the proscenium needs to be manipulated.
A third antenna, made of the newest point source speakers, the Amadeus C6 (1 by 6'' LF; 1 by 1'' HF) is flown above the audience, between the second and third technical bridges. These speakers mainly provide reinforcement for the low-mid frequency range, which is often necessary at the back of a theater.
The low-frequency reinforcement system, based on the new Amadeus ABB 18 reference, includes a total of four units. This new speaker model, with limited depth and extended height design, was derived from the standard reference Amadeus ML 18 used in the Théâtre de le Ville (Théâtre des Abbesses) installation. This news Amadeus Speaker Series includes ABB 12 and ABB 15 references.
Two subwoofers are installed close to the front of the stage, one stage left and one stage right. Two other subwoofers are paired at the ceiling level, above the audience.
Le Préau has also bought a large quantity of point source speakers including Amadeus PMX 5, PMX 8, PMX 12, and PMX 15 models. These speakers are intended for use as stage monitors, or mobile systems during immersive sound creations.
These PMX speakers can be controlled by the HOLOPHONIX processor, offering 128 In/Out, as well as a quasi-unlimited amount of spatialization buses. Each bus can run embedded spatialization algorithms, including Higher-Order Ambisonics (2D, 3D) Vector-Base Intensity Panning (2D, 3D), Vector-Base Amplitude Panning (2D, 3D), Wave Field Synthesis, Angular 2D, k-Nearest Neighbor, Stereo Panning, Stereo AB, Stereo XY, Native A-Format Ambisonics, Native-B Format Ambisonics, and Binaural.