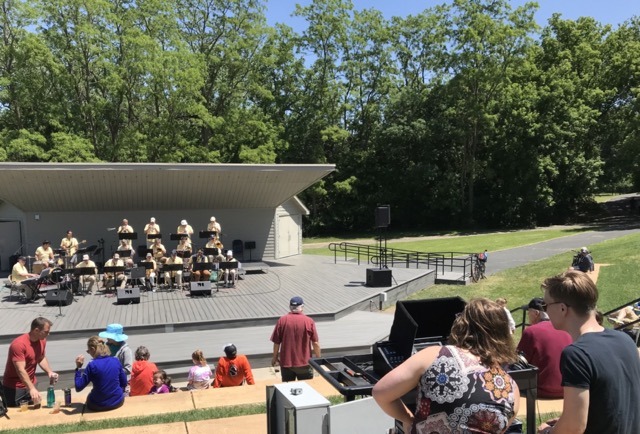 Staring Lake Amphitheatre is a 400-seat outdoor performance space in Eden Prairie, MN.
The city-owned venue is used for theatrical productions, concerts, weddings, and special events.
When the amphitheatre's previous audio system started to fail, they began to shop for more up-to-date solutions.
"They were looking for a more modern system that would give them higher-end features," noted Nic Hentges of Audio Logic Systems, who earned the bid for the project.
"It had to be flexible and powerful enough to handle theatrical performances while being easy to control during small events."
The team at Audio Logic Systems explored multiple product lines before deciding on Allen & Heath's AHM platform to manage audio at the facility.
"We felt like the cost and feature set made for an incredible fit," recalled Hentges. AHM series audio matrix processors offer scalable audio processing and distribution with multiple control options.
For simpler events like Yoga classes and weddings, an AHM-32 provides system processing and easy control over a small number of microphones and playback sources – thanks to an intuitive IP-6 rotary controller with LCD displays, as well as a custom application the installers designed using Allen & Heath's Custom Control editor.
"If it's a yoga instructor or city employee with limited audio experience, they can just grab an iPad and have control of the mics and playback while moving around in the audience area," explained Hentges.
The custom-tailored app can run on any iOS, Android, Windows, or Mac device on the AHM's network. "Our lead engineer found the AHM platform very easy to work with," said Hentges. "He's excited about putting it on other projects."
An Allen & Heath SQ-6 compact digital console was also included to allow for more hands-on mixing during larger events with a dedicated audio engineer. A DX-HUB and DX168 stageboxes were added to the system to provide distributed I/O around the stage as needed.
"The clients had been avoiding digital consoles for many years," explained Hentges. "They were really pleased once they started working with the SQ. All-in-all, I believe this system to be a great fit."