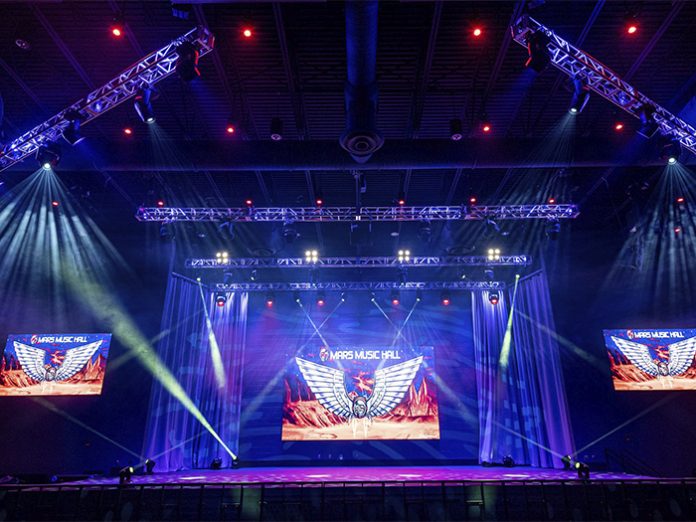 Mars Music Hall in Huntsville is changing the landscape of the music scene in northern Alabama. The latest success in an ongoing expansion project at the multipurpose Von Braun Center, Mars Music Hall proudly debuted its Elation Professional lighting rig in early January, a welcome occasion that set an upbeat tone for the next eight weeks of shows before the venue went into COVID-19 hibernation.
The inaugural show, a January 3rd sold-out performance featuring Jason Isbell and the 400 Unit, highlighted the intimate character of the venue's broad, not-a-bad-seat-in-the-house design with its wrapping balcony overlooking a 50 ft wide stage. A variety of events ranging from concerts to comedy acts and everything in between play the new venue, all benefiting from state-of-the-art lighting and acoustics.
Justin Young, production supervisor at Von Braun Center (VBC) the past six years, designed the lighting system for the new space and worked with Freed Sales to secure an Elation lighting package. Having developed a relationship with the rep firm that goes back many years, he says he knew Dustin Pesnell and his team would take good care of them. "At the theatrical lighting shop I was at before I came to VBC, I saw how well Freed took care of us and over time we bought a lot of Elation gear," he commented. "I know the brand well and knew I wanted to deal with a company that I could trust. I'm perfectly happy with the equipment but that wasn't my driving factor in choosing Elation. Relationship and experience were key."
First opened in 1975, Von Braun Center, with an indoor arena, concert hall, playhouse, convention spaces, banquet halls, and a full-service restaurant has grown to be one of the busiest event centers in the country. Production in its 34 individual rental spaces, be it a wedding, prom, convention, corporate event or high-profile touring act, can all be handled in house. With a tremendous demand for events in its existing spaces, the additional 1,575 capacity Mars Music Hall has filled the need for increased concert demand.
"It's the only space at VBC with a fully automated lighting system and I knew from the start that I wanted to go with all LED," Justin said. "Not only did we not want to mess with lamps but we're trying to get our power draw footprint down as far as we can and this was an obvious area to help with that." Because the room is relatively small and with trims of only 22 feet, Justinknew that LED would be fine for the room. "You don't need the biggest and brightest for every application," he says, noting that he didn't even entertain going with discharge lamps. "This rig is a good example of what you can do with this level of gear."
Mars Music Hall is a new build and new construction always poses special challenges with different areas being worked on at the same time and no previous experience in the space to go by. Nevertheless, it can also be an advantage as you work alongside other installers and contractors and have the opportunity to get immediate feedback. One of the main challenges at Mars Music Hall was working amongst and around ducting, HVAC, existing electrical, etc. "Fitting a system in there that was as flexible as it could be in a space that already has spatial constraints was a challenge," Justin said, adding that he had to make some functional decisions based on immovable objects. "For example, in order to work around existing HVAC pipe in the ceiling, I created two front V-shaped trusses that avoid the pipe. It looks great and adds a nice visual difference to the three overhead horizontal trusses."
Wanting to create a malleable rig, "something that has a little bit for any type of programmer," Justin started with colour wash possibilities. "A big focus of that and something I knew I had to have was a good stage wash and I knew the Fuze Wash with its RGBW COB LED engine would be ideal for that. It's also important to me to have a good colour wash because we have quite a few acts that come through who are a bit old school and they want a lot of colour wash." Justin said that sometimes, too, he finds it necessary to remind some of the younger LDs that come through to remember that the ticket buyer wants to see the act. With Fuze Wash Z350 fixtures populating the downstage truss and both V-shaped trusses, he provides ample opportunity for that.
Big on gear that's been on the road a while and proven reliable, when looking for a good spot fixture Justin sought advice from some of his trusted lighting network colleagues. "I know the operations manager at Elite Multimedia in Nashville who already had Artiste DaVincis in their inventory," he said. "He couldn't keep them in the shop and had just bought some more fixtures. That was enough for me. Once I knew the DaVincis we
re out on the road and holding up well and were popular, I went with them. The room is not that big so they fit in real well." He adds that they also met his price point.
Filling out the rig are compact DARTZ 360 LED beam/spot moving heads used for powerful aerial beam effects from overhead truss and floor positions; SixBar 1000 LED battens hung across the upstage truss to downlight the curtain or frame out the stage; Cuepix Blinder WW4s providing high-impact white light from the midstage truss; and SixPar 100s populating every stick of truss as colorful truss warming effects. On each side of the stage are LED screens running Arkaos media server content. Harkening back to his days as manager of a production house, Justin said the rig is all tour grade equipment. "It's basically a road rig in a permanent application. We could literally take the whole rig down, pack it in a truck and set it up somewhere else."
As far as the house lighting, early on in the project Justin approached VBC management about doing something special. "I said that if they would give me the money that would normally be spent on house lighting then I could do it all with LED and be controllable. It was important to me because even before the project happened I had a dream of mapping the ceiling of a venue and this was a great opportunity." Justin got his wish in the form of Colour Pendants installed by Axis Productions of Muscle Shoals, Alabama. Colour Pendants provide a dynamic house lighting solution above the audience, allowing for more dynamic house looks and more immersive designs. "Because we are the Mars Music Hall, in theme the doors and intermission look is house at red. Even if we didn't do any other effects, being able to do that with the Colour Pendants definitely pulls the whole room together," he concluded.