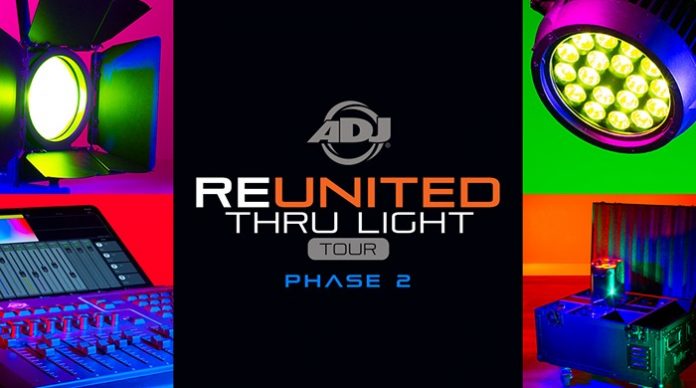 ADJ will bring the entertainment lighting, LED video and pro audio solutions to its end users, stockists and lighting enthusiasts with the second rendition of its Reunited Thru Light Tour. Hitting cities across the USA over the coming months, these road show events will offer attendees the opportunity to meet in person once again and see an exclusive preview of ADJ's latest fixtures set to hit the market.
Following a hugely successful first leg, the Reunited Thru Light Tour is set to return – bigger and better – as the industry looks towards a brighter future in 2022. This second phase will feature a programmed lightshow showcasing ADJ's latest entertainment lighting fixtures as well as individual demos of the company's hottest products. It will also offer an exclusive opportunity to see brand new, soon to be announced, ADJ fixtures in the flesh for the very first time.
"Words can't describe how much I've enjoyed getting back out on the road and seeing ADJ customers, both old and new, in person during the first leg of the Reunited Thru Light Tour," commented ADJ USA National Sales Manager, Alfred Gonzales. "I also know that the feeling is mutual as I've heard from lots of visitors to the events how much they have valued the opportunity to meet and network in person again with other local industry professionals in a fun and focused environment. For the second phase of the tour, we're dialing things up a notch with the addition of a programmed light show and exclusive demos of some very exciting new projects. I'm really looking forward to the up-coming events and look forward to welcoming you to your local tour stop!"
In addition to an exclusive preview of ADJ's new products for 2022, the tour stops will also offer attendees the opportunity to view many of ADJs other recently released and best-selling entertainment lighting and LED video fixtures. One of the big hits on the first leg of the tour was the Mirage Q6 Pak, a flight-cased set of six battery-powered, IP65-rated wireless LED up lights that can be charged while safely stored in their case.
The new Encore Lime Par Series of IP65-rated LED pars will also be on display. Featuring 20W RGBL (red / green / blue / lime) colour mixing LEDs that offer sensational brightness with a very high CRI, these fixtures are ideal for a wide variety of event and concert lighting applications. Three models will be available: Encore LP7IP, Encore LP12IP and Encore LP18IP, with 7, 12 and 18 LEDs respectively.
Other recently released ADJ fixtures that will also be on the tour will include the Focus Wash 400, Focus Spot 6Z, Vizi Beam 12RX, and Hydro Wash X19 moving heads; the Encore Profile Pro WW / Encore Profile Pro Color LED-powered ellipsoidals; the Pixie Strip series of pixel-mappable LED strips; the Encore FR150Z / Encore FR50Z LED-powered warm white Fresnels, the Entourage touring grade faze machine and the Vision Series of LED video panels. The latter will be displayed using a brand new modular ground support base system which allows the easy setup of a freestanding screen of up to six panels in height and unlimited width.
As well as entertainment lighting and LED video equipment from ADJ, the road tour will also showcase pro audio equipment from sister company AVANTE Audio. The AVANTE Achromic series of active loudspeakers offers an unsurpassed combination of audio clarity, build quality and affordability, while the unique Imperio Series is a 'mini array' system that offers a powerful, flexible and scalable active audio solution.
Everyone involved with lighting, video or audio production at rental houses, integrators, theatres, houses of worship, schools, event companies and mobile entertainment businesses are invited to attend one of these free events. Each tour stop will feature product demonstrations, hands-on product training with the new LINK controller, plenty of chances for informal networking, and feature a free product prize drawing for everyone who registers in advance and then attends in person.
Additional dates will be announced soon. Although the events are free to attend, individuals are kindly invited to R.S.V.P to reserve a spot at: www.adj.com/news/post/adj-reunited-thru-light-tour-phase-2