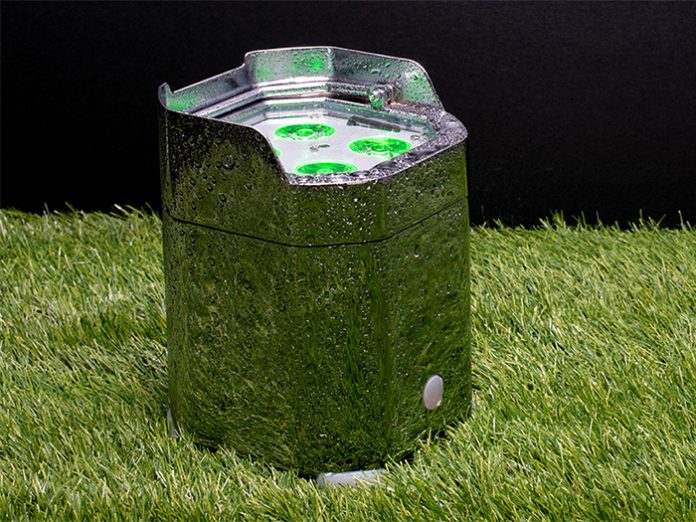 Building on the release of the Element HEXIP outdoor-rated wireless up-lighting fixture, ADJ has introduced the new Element HEX IP Chrome model. Offering the same tried-and-tested formula of 6-in-1 HEX LEDs, a powerful rechargeable battery, WiFLY EXR wireless DMX and an innovative casing design, the new version features a striking chrome housing. This makes it ideal for applications where, instead of blending into the background, lighting fixtures are required to make a bold statement.
The Element HEX IP Chrome is powered by four 10W HEX (RGBWA+UV) LEDs, which generate a consistent colour wash with a 20-degree beam angle. The 6-in-1 LEDs allow for the creation of a huge palette of colours ranging from vivid saturates to subtle pastels. In addition to the primary colours of red, green and blue, the inclusion of both white and amber LED elements allows for the generation of a wide variety of colour temperatures of white light, ranging from stark cool white to soft warm white. Meanwhile, the UV LED element not only allows for the creation of the classic 'blacklight' effect where white and fluorescent materials glow vividly, but it can also be combined with the other colours to create hues such as hot pink, electric purple and lime green that aren't possible using tri/quad colour uplighters.
As well as full colour mixing of the six LED elements, which allows the choice of a vast variety of colours, the unit is pre-programmed with 63 colour macros to allow for quick setup when required. It also offers Sound Active operation as well as an Auto Run mode with a choice of 16 pre-programmed colour chases as well as 16 colour fade patterns. 0 – 100% master dimming and variable speed pulse/strobe effects (0.2Hz-11Hz) are also on offer. A four-character LED display and four corresponding push buttons provide a simple menu interface for mode and colour selection as well as DMX addressing.
For DMX control, the unit features a built-in WiFLY EXR receiver which allows wireless control from a distance of up to 2,500 feet (760M). A truly wireless fixture, the Element HEX IP Chrome also features a powerful internal rechargeable lithium ion battery. Offering a capacity of 6.6AH, it can be fully charged in just 4.5 hours and is capable of running continuously for up to 16 hours between charges (single colour, battery saving mode). An IEC power inlet for charging, as well as an on/off switch, are positioned below the menu display and a USB port is also included for future firmware updates. These are built into a water-resistant hatch on the side of the fixture, which is covered by a hinged lid during operation to provide both protection for the connections and screen as well as to hide them from view.
With an external casing that meets the IP54 standard, the Element HEX IP Chrome is suitable for temporary event use both inside and outside. Not only does it have a luxurious reflective metallic finish, it is robustly constructed to withstand the rigors of a life on the road. Developed in consultation with event professionals, it has a unique practical design which makes it both easy to use and adaptable to a wide range of applications.
A retractable handle folds out from the top of the unit for carrying and is then hidden by the built-in snoot when the fixture is in position. It features integral feet, which mean that is can simply sit directly on the ground for easy-to-setup, but highly effective, up-lighting of walls and backdrops. Alternatively, it also features a built-in kickstand which can be used to angle the fixture in towards a wall for a tighter beam. A series of notches at preset angles make it quick and simple to set multiple fixtures to precisely the same position. Finally, a mounting point on the front of the fixture allows a hanging bracket to be attached so that it can be hung from a truss for downlighting or stage illumination.
With compact dimensions of 5.5" by 5.5" by 7.5" / 140 by 140 by 190.5mm (L by W by H), and a weight of just 6.5 lbs. / 2.9kg., the Element HEX IP Chrome is convenient to store, transport and carry. To protect the fixtures in transit and storage, ADJ offers a choice of two different storage cases. Ideal for mobile entertainers with limited transportation space, the compact and affordable ELEMENT PC6 is a robust waterproof plastic case which has the capacity to store six fixtures in dedicated compartments. Alternatively, the ELEMENT FC is a professional-caliber road case with castors, retractable handles and a hinged lid that is held in place by a pair of butterfly catches. It features slots to accommodate eight units and offers in-case charging with a dedicated switched power cord for each stored fixture.
"The Element HEX IP has proved to be very popular with entertainment and production companies who want a versatile, reliable LED wash fixture that is truly cable free and can be used both inside and out," commented ADJ USA's National Sales Manager, Alfred Gonzales. "Combining hex colour mixing, powerful LEDs, a high-capacity battery, ADJ's extended range WiFLY EXR DMX and an intelligently-designed IP-rated case makes it an appealing proposition for event professionals who need to be able to set up stunning event lighting very quickly. That's why we decided to extend our range with the addition of an attractive chrome-finished version. For some applications a black casing, which will blend it to a dark stage or event space, is what's required, but for others an aesthetically-pleasing mirrored finish is more appropriate. Now, with the addition of the Element HEX IP Chrome, ADJ's range has both options covered."
The Element HEX IP Chrome is shipping now from ADJ USA.