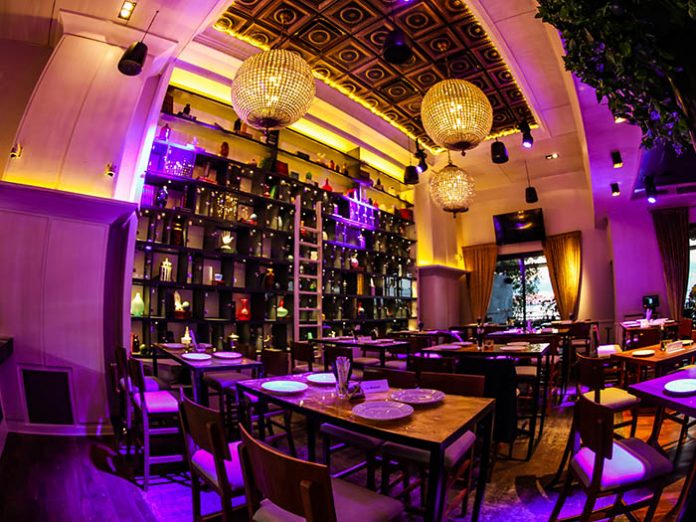 Doble B is the hottest new nightspot in the Mexican tourist trap of Cancun. Open for lunch and then dinner as a sleek restaurant, after hours the venue transforms into a nightclub with help from more than 40 of ADJ's professional LED-powered lighting fixtures.
Attracting an up-market clientele looking for a sophisticated evening of dining, drinking and dancing, Doble B is the latest new venue to enhance Cancun's vibrant nightlife scene. With an elegant interior design anchored by four custom-built chandeliers each featuring a myriad of tungsten-effect pixel-mapped lamps, the space features a large bar on one side and glass doors opening onto a terrace on the other. Accessible both from the road and a private boat dock, it offers a truly luxurious experience.
The well-established entertainment audio and lighting equipment installer Adimsa, headed up by Director General Edson Rivera, was contracted to specify and install a versatile lighting system for the venue. Edson and his team were recommended to the developers of Doble B, Christian and Oscar Rodriguez, by a previous satisfied client. The brief was to design a lighting system that would not detract from the space's opulent décor during the day, but that would be able to transform it into a vibrant nightclub after dark.
To achieve this goal, Edson selected four different models from ADJ's extensive catalogue of entertainment lighting fixtures, two moving head wash luminaires and two static wash fixtures. These, combined with the pixel-mapped chandeliers and a considerable quantity of RGB pixel tape hidden in the ceiling alcoves, allow a complete change of atmosphere from when the venue opens as a restaurant in the day and transitions to a lounge bar in the evening. It then facilitates another change after 11pm when the music volume increases and drinking leads to dancing.
Integral to the lighting design is ADJ's Vizi Hex Wash7 moving head fixture. This versatile unit packs in seven 15W six-in-one hex LEDs to allow lighting designers the ultimate in colour mixing flexibility, including UV-infused hot pinks and deep purples. In addition, the fixture offers a motorised zoom function allowing for a beam angle of between five and 55º.
The Adimsa team installed twelve of the units in the roof of Doble B's main space, to allow for coverage throughout the whole venue. During the early evening they have been programmed to set the mood through slow-moving wide color washes, while later on they are used for more energetic moving beam effects to encourage dancing.
"We chose the Vizi Hex Wash7 moving head for this project because of its versatile functions," explained Edson. "It has a powerful output and not only offers lots of colour choices, including UV, but also has a wide zoom range. This means that the same fixtures can be used to fill large areas of the venue with colour in the early evening and to create tight beam effects when the place becomes a club after 11pm."
In addition, Edson also specified ADJ's compact yet still powerful Inno Pocket Z4 fixture. This mini moving head wash features four 10W four-in-one quad colour LEDs and also offers a motorised zoom function with a range of between 10 and 60º. Ideal for use in venues with low ceilings, this pocket-sized mover is also perfect when a multitude of fixtures are required to create multi-beam effects on a limited budget.
In Doble B, the Adimsa team installed 12 of the units in a tight line across the front of the venue's main space, above the area that serves as a dancefloor after dark. Used in multiples, they create impressive effects both during the early evening with slow subtle movements and colour fades, and later on when fast movements and quick colour changes create an upbeat nightclub vibe.
"The Inno Pocket Z4 is incredibly compact," enthused Edson, "but despite its small size it still generates an impressive output and is a versatile fixture with full colour mixing and motorised focus. It is very competitively-priced, which is why we were able to use a large quantity concentrated in one area on this project."
To complement the moving heads, Edson also specified a variety of static washes to illuminate specific key areas throughout Doble B. 12 of ADJ's Ultra Hex Bar 12 linear fixtures provide vibrant downlighting, four of which are positioned above a textured wall located at the end of the main bar. Each of these units feature 12 10W six-in-one hex LEDs as well as ADJ's patent-pending magnetic Quick Align end-locking system that allows for a seamless output of light with no breaks of colour when used in line.
Finally, Edson selected eight of ADJ's heavy duty IP65-rated 12P HEX IP fixtures to provide colour washing on the outdoor terrace. These powerful units have a 30º beam angle and utilise the power of 12 x 12W six-in-one HEX LEDs to generate vibrant colour washes with an almost limitless palette. Fully sealed, and complete with IP-rated DMX sockets and powerCON True1 power connections, these fixtures are ideal for use outdoors in any climate.
Adimsa has a long history of installing ADJ equipment in nightclubs and bars across Mexico, and Edson is clear on why they continue to recommend the brand. "For us, the most important thing is the reliability of ADJ products. We can install them with confidence, knowing that they won't cause any problems for our customers. Delivery times from ADJ are also quick and their sales department provides great customer service."
Doble B is yet another example of how ADJ's range of innovative, reliable and affordable lighting fixtures are being used by installers on projects of all shapes and sizes to realise the visions of their clients. In this case, they seamlessly blend in with the venue's sophisticated décor during the day and completely transform it when evening arrives. The finished project is stunning and the venue has proved extremely popular with visitors and locals alike since it opened at the beginning of July.