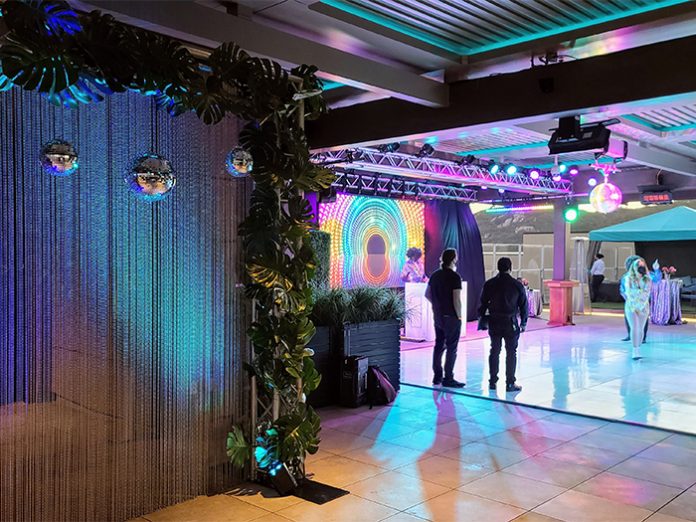 Located on the 6-acre Jamul Indian Village reservation, 20 miles east of downtown San Diego, the Jamul Casino is a popular entertainment destination that attracts visitors from across southern California. In addition to gaming, it offers multiple restaurants, bars and lounges, the newest of which is The Rooftop. Developed on the roof of the main casino building, it offers stunning 360-degree views of the surrounding valley and is used for private parties as well as regular live music performances and theme nights. Having initially rented lighting for special events, earlier this year the casino's management invested in a permanent house rig comprised of 80 ADJ fixtures.
For a number of years, AV support for the casino has been provided by CBC Technical Inc., located in nearby Temecula, CA. A full-service audio / visual and lighting solutions company, CBC specializes in permanent installations, live and special events, as well as managed services for businesses of all sizes. The company originally rented a lighting system to the casino for live music performances and special events at The Rooftop, following its completion last year. However, as the popularity of the venue grew and its events calendar expanded, they decided to invest in having a dedicated house rig permanently installed.
CBC Technical designed and supplied a versatile lighting system comprised exclusively of ADJ fixtures, the majority of which are IP65-rated due to the outdoor nature of the space. The company's Director of Production Services, Michael Hoffman, was responsible for designing the house plot, which is then adapted as necessary for special events and performances. Michael also serves as resident LD to the venue, coming in to setup custom looks for private parties or to run the lighting for featured special guest performers.
To create aerial effects, Michael uses four of ADJ's Hydro Beam X2 IP65-rated moving head beam fixtures, which are located directly on the deck in the four corners of the stage on his house plot. With a combination of precision-engineered optics and a potent Osram Sirius HRI 370W LL discharge lamp, the Hydro Beam X2 generates a razor-sharp output that can be customized using a wide variety of beam manipulation tools to provide lighting designers with a high level of creative freedom. Its features include linear motorized focus, two prisms (8-facet circular and 8-facet linear), glass and metal GOBOs that rotate and are replaceable, 3 beam reducers and an independent frost filter for wash effects.
"The output on the Hydro Beam X2 is simply phenomenal," enthused Michael. "I was just blown away when I turned them on and got them up and running for the first time. In fact, I have to be careful where I point them! The casino is surrounded by protected land, and they are so bright that if I shot them at the surrounding hills it would break the environmental ordinances! We're also on a flight path into San Diego airport, so I have to be careful not to shine them up into the sky. It really is a fantastic fixture. The beam definition is outstanding, the functionality of the prism effects is great, and everyone who has seen them so far has been very impressed. As things start to open up again, I can really see us using these more and more on many other projects."
The rig also features another fixture from ADJ's Hydro series of IP65-rated moving heads, the Hydro Wash X19. Two of these luminaires are rigged to a truss hung from the roof canopy in front of the stage, while two additional fixtures are mounted from side bars, one at either edge of the stage. Each of these versatile movers feature 19 Osram 40W RGBW (4-IN-1) LEDs and offer motorized zoom for a variable beam angle of between 6 ~ 40-degrees.
"I love the brightness of the Hydro Wash X19," stated Michael, "they are really punchy, and the individual control of each diode has been phenomenal for color mixing. The first day I set them up I created a kitsch little smiley face to test the pixel mapping and the event producer for that evening saw it and asked me to keep it on for the whole night! On a more serious and practical note, for weddings at the moment all the brides want amber lighting, but the photographers want white to get their shots. So, I've been setting the central LED and outer ring to amber but then then putting white on the middle ring. This keeps everyone happy and allows me to accomplish multiple tasks with just a single fixture. I've also been super impressed by the zoom range. It goes tight enough that I'm able to get a nice highlight spot, while zoomed all the way out I can wash most of the roof structure in any color I want. With just four lights I can do a lot, more than with other wash fixtures."
To complement the moving head washes, Michael's lighting design also incorporates 32 of ADJ's extremely popular 12P HEX IP fixtures. These extremely robust IP65-rated LED pars each feature 12 by 12-Watt 6-in-1 HEX (RGBWA+UV) LEDs and offer a beam angle of 30-degrees. Spread across both the upstage and downstage truss, as well as the side rails, these fixtures allow the whole stage to be washed in an almost limitless palette of colors. In addition, two of ADJ's 15 HEX BAR IP linear LED fixtures – which each feature 15 of the same 12-Watt 6-in-1 HEX LEDs – are mounted to each of the side rails to provide side-fill color washes, while eight more of the fixtures are lined along the back of the stage to up-light the rear drape.
To illuminate the stage itself, Michael opted for twelve of ADJ's new Encore Profile Pro Color LED-powered ellipsoidal fixtures. Offering all the features and functionality of a regular professional ellipsoidal, these cutting-edge units each harness the power of a 250W 6-in-1 RGBWAL LED engine, which boasts an impressive 50,000 hour average operational life. Through independent dimming control of the red, green, blue, white, amber and lime LED elements, this fixture can be used to generate a huge gamut of colors ranging from vibrant primaries to subtle hues. It can also be used to output color-corrected white light, with a macro function providing easy selection of a range of different Kelvin color temperatures from 2400K to 9000K. It has a light output of 6,000 lumens (measured with a 26° lens) and offers a CRI in excess of 90.
"This was my first time working with the new Encore Profile Pro ellipsoidal range and I really love them. I was super impressed by the brightness, when compared to other LED-powered Lekos I've used, they are definitively brighter. In the past I've also been generally disappointed with the shutters on LED ellipsoidals, across the industry, they tend to be flimsy. But, so far, I've found the ones on these fixtures to have a lot more rigidity. I've also been very impressed with the color mixing. I love having a front light position where every fixture can be used for either white key light, with variable color temperature, or for background color wash. It makes for a very flexible rig and minimizes the need to make changes to fixture positions from show to show."
In addition to this expansive static lighting rig, CBC also supplied the venue with 12 of ADJ's Element HEX IP wireless par fixtures to be deployed as required for each individual events to provide additional up-lighting or accent lighting. Each featuring four 10W RGBAW+UV (6-IN-1) LEDs, these compact and robust portable lighting fixtures are equipped with WiFLY wireless DMX receivers and powerful internal batteries, allowing for true wireless operation. They are also IP54-rated, which makes them suitable for use outdoors in any weather conditions.
"I've been really impressed with the Element HEX IPs because of their rugged feel. They have some weight to them, and I can tell they'll be tough enough to stand up to the knocks and kicks that they're sure to get being out on the ground in a public space. The IP-rating is also very important, not just because this is essentially an outdoor venue, but because it's not a matter of if but when one will get a drink poured over it! I've also been impressed with the brightness and the longevity of the battery; we've had them run up to 15 fours from a single charge. I love them, they make for a simple setup and their size-to-brightness ratio is really good."
Since the new lighting system was installed in late February, Michael has had the opportunity to put it through its paces for a variety of different performances and special events. These have included St. Patrick's night, Mardi Gras and Disco themed nights as well as live performances from Elton John and Ratpack tribute performers. Michael and CBC technical have also used significant quantities of ADJ lighting fixtures on a number of other projects over the past couple of years, making him ideally placed to comment on the reliability and versatility of the range.
"Over the last two to three years, I've been consistently amazed by the new lighting products that have come out from ADJ. The combination of output, durability, features, and versatility, at a very accessible price point, really is impressive. Across all the products I've used at the casino, and on other projects over the past couple of years, ADJ has never disappointed or let me down. The IP fixtures are particularly impressive, we've really put them to the test, in terms of weather conditions and extended use outdoors, and found them to be unfailingly reliable. It's great gear."
The new lighting installation at The Rooftop of Jamul Casino also showcases the comprehensive nature of ADJ's lighting catalogue. CBC were able to source everything from ellipsoidals to pars, moving heads to battery powered portable accent fixtures, from a single brand and in fact everything they needed from one company (the trussing was from sister brand Global Truss America).