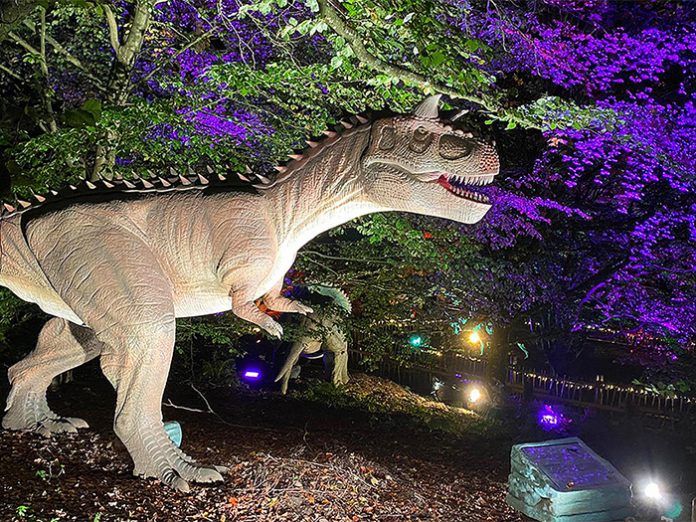 To celebrate its fiftieth anniversary this year, Blair Drummond Safari Park in Scotland has opened a new walkthrough dinosaur attraction. offering an opportunity for visitors to come face-to-face with life-size animatronic models of the most iconic creatures from the Jurassic period, after dark the woodland site is dramatically illuminated by 55 of ADJ's led-powered 'outdoor ready' wash fixtures.
Opened in 1970, Blair Drummond Safari Park is one of Scotland's most exciting visitor attractions. Located just outside the Scottish city of Stirling, the site is home to over 350 rare and exotic animals, including the country's only giraffes. Opened to celebrate its fiftieth anniversary this year, the park's new 'World of Dinosaurs' attraction features twenty full-size model dinosaurs arranged throughout a trail laid in a 10,000 sq. ft. area of woodland. The models, which include a towering tyrannosaurus rex and a diplodocus that measures almost 70ft. in length, have been specially made for Blair Drummond. They are constructed with steel frames, covered with silicone skin, and are controlled with infrared sensors that trigger realistic movements including blinking eyes, breathing stomachs, arm gestures and head movements.
Since the park opens well after dark in the winter months and also hosts special events for Halloween and Christmas, management were clear that lighting would be an integral part of the new attraction. They had previously worked with specialist lighting provider Essential Supplies – based in Cornwall, England – on a project to light a special event space. This included a variety of ADJ fixtures and the team were very pleased with both the service they received from Essential Supplies and the quality of the ADJ equipment, which meant that this same combination was a logical choice for the much larger lighting installation for 'World of Dinosaurs'.
Essential Supplies' Alex Darling was responsible for designing and specifying the project as well as carrying out the onsite installation. Because of the family-oriented nature of the park, and the scale of the dinosaurs themselves, Alex choose a fun, colorful palette for illuminating the trees in the area instead of trying to recreate an authentic Jurassic period aesthetic. Then he opted for simple warm white illumination of the dinosaurs themselves to highlight the intricate detail of the models.
"The park is out in the middle of nowhere and it really is pitch black at night," explained Alex. "So the lighting is essential for the attraction to operate after dark, but it also creates a bit of stay enthusiasm for guests, encouraging them to extend their visit to see the dinosaurs lit up. Obviously, my design is far from 'to the book' Jurassic, but I found that because the models are so big and lifelike, lighting them in an authentic way made the area a bit too scary. I knew that the park wouldn't want their younger visitors to be frightened, so went for a design that is as fun and colourful as possible in the background but then aimed to light the dinosaurs as theatrically as possible so they retain their realistic appearance."
To achieve this, Alex selected two models from ADJ's range of weatherproof fixtures, the 32 HEX Panel IP and Encore Burst RGBW IP, which were used in multiples to light the entire 'World of Dinosaurs' exhibit. Both fixtures feature rugged all-metal construction and are sealed from water and particulates up to the IP65 standard, making them ideal for both temporary outdoor events as well as permanent installation projects such as this.
The 32 HEX Panel IP is a multi-function wash / blinder / color strobe that features 32 x 12W HEX (6-IN-1) RGBWA+UV LEDs, allowing for the creation of an expansive palette of both vibrant saturated colors and more subtle pastel shades. It offers a 24-degree beam and its LEDs are arranged into eight individually-controlled sections to allow for the creation of 'eye candy' chase effects. It is supplied with a versatile variable-angle bracket, which can be used interchangeably for hanging and as a floor stand, as well as a removable magnetic frame to allow the addition of a diffusion filter to increase the spread of the beam.
"I chose to use the 32 HEX Panel IP on this project because of its brightness and beam spread," explained Alex, "not to mention its really good colour mixing abilities. I'd also used a significant number of the units in harsh conditions last year on another project, the Illuminate Festival of Light, so I knew that they would be up to the challenge of permanent outdoor use. With their good throw, I mainly used these fixtures to light up the tree canopies in a variety of different colours to create a backdrop for the dinosaurs."
The Encore Burst RGBW IP is a high intensity wash / blinder / strobe fixture powered by a single 150W quad colour (4-in-1) RGBW LED. It offers a wide beam angle of 50-degrees and extremely smooth colour mixing with no shadows thanks to its COB (Chip On Board) LED engine. The lightweight fixture features an integrated two-part yoke, which can either be split to form a floor stand or combined to create a regular hanging bracket complete with an Omega bracket attachment.
"For this project I particularly wanted something with a really smooth but wide spread of light," explained Alex, "and the Encore Burst RGBW IP offers exactly that. With its wide beam angle and Fresnel-style lens, it was perfect for illuminating the dinosaurs themselves in warm white. The chip in them is phenomenal; I didn't get any hots spot, just a nice, even and natural-looking coverage of light. I really can't fault the build quality of these fixtures too; they are solid, rugged, and I'm sure that they are up to the challenge of permanent installation in a cold forest in Scotland! We've generally found ADJ's IP65-rated fixtures to be very reliable; we've had fixtures that claim to be IP65 from other suppliers in the past that have leaked a bit, but we've never had a problem with ADJ units."
The finished lighting system dramatically brings the 'World of Dinosaurs' attraction to life in a completely new way after the sun sets each evening. The management of Blair Drummond Safari Park were extremely pleased by both Alex's design and the ADJ equipment, which was evidenced when a month after the installation was completed they ordered a further eight 32 HEX Panel IPs and ten Encore Burst RGBW IPs to expand their nighttime illumination into another area of the park.
'World of Dinosaurs' at Blair Drummond Safari Park is open now and has expanded its winter season to include every day up until December 20th 2020. As an open-air attraction, the park remains open despite the COVID-19 pandemic. However, due to reduced numbers to allow for social distancing, all visitors must book in advance for a timed entry slot.