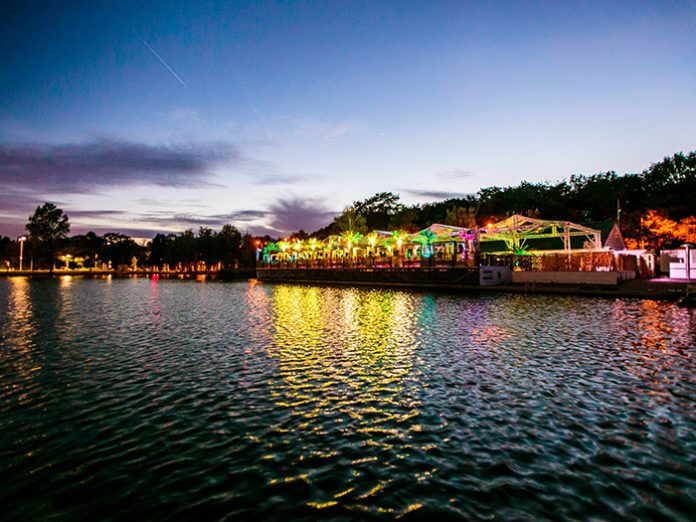 Throughout the world, the summer of 2020 was very different to any in living memory. With the COVID-19 pandemic forcing the cancellation of concerts and festivals, as well as the closure of nightclubs and music venues, opportunities for relaxing and socialising have been rare. Offering a solution to this, Insight Beach was a large pop-up beach club with a limited capacity that assigned guests dedicated day beds to allow for social distancing. From the comfort and safety of their designated space, visitors could enjoy a full menu from resident chef Pascal Ariëns of Restaurant By Pascal in nearby Oosterhout, drink cocktails from a fully stocked bar and listen to live DJ performances using 'silent disco' headphones. On Saturday nights the venue partnered with a variety of Dutch Dance organisations to bring in special guest DJs who delivered an authentic club experience in a COVID-safe way.
Lighting for the venue was supplied and installed by local rental company, Trend Productions, a well-established supplier of lighting, audio and visual equipment. The company is used to providing production services for large-scale one-off dance events, so this long-term installation outdoors was a unique opportunity for owner Adje van Veghel to thoroughly test his inventory of IP65-rated fixtures. The brief was to enhance the atmosphere of the venue as the sun set each evening as well as to create a nightclub feel with moving beams for the Saturday night events. Adje achieved this by using ADJ fixtures exclusively, which were installed for the duration of the venue's almost four month run on low-level trussing erected throughout the space.
For wash lighting, Trend Productions supplied 70 of ADJ's popular 7P HEX IP LED par fixtures. Featuring a robust all-metal construction, each of these compact yet powerful wash units incorporate seven 12-Watt 6-in-1 hex coluor LEDs. By combining together varying intensities of the red, green, blue, amber, white and UV LED elements, the fixture can be used to generate a wide palette of colours including both vibrant primaries and subtle pastel shades. It has a 30º beam angle, which makes it suitable for a wide variety of duties, including stage washing, dancefloor illumination and architectural up-lighting and down-lighting.
"At Insight Beach we positioned the 7P HEX IP fixtures underneath the daybeds, to make them glow, and also used them for general wash lighting and to specifically illuminate areas for dancers and live cooking demonstrations," explained Adje. "I chose to invest in these fixtures because they offer a really good price to quality ratio. They are extremely reliable fixtures that very rarely malfunction, even when left outside all summer long and used every day. I also like their light output as well as the variety of colours you can create using them. The UV element adds a lot to the colour mixing possibilities and the warm white it generates is very nice."
To provide aerial effects for the Saturday club nights as well as sky-searching beams to attract attention to the venue, Trend Productions also supplied 11 of ADJ's Hydro Beam X1 IP65-rated moving head beam fixtures. Powered by a 100W Osram Sirius HRI discharge lamp and with a tight beam angle of 3º, this compact yet powerful unit features a host of beam shaping features including 14 colours + open, 15 metal GOBOs + open, a 16-facet circular prism and a frost filter for creating a wash effect.
"At the end of this project it was nice to see the quality of the Hydro Beam X1s," commented Adje. "They hung outside non-stop for four months, day and night, in pouring rain and the full heat of the summer sun, and not one of the fixtures malfunctioned. More than that, no bolts or screws rusted, no moisture entered the heads at all, and there is no discoloration to the outer casings. Once they have been cleaned, they'll be as good as new!"
Together, the vibrant washes created by the 7P HEX IPs and piercing beams generated by the Hydro Beam X1s totally transformed Insight Beach Brabant each evening after dark. It gave the large space the feel of a nightclub, while allowing guests to maintain the social distancing required this summer to prevent the spread of COVID-19.
With an extensive inventory of fixtures, Spectrum Events have come to rely on ADJ as their primary lighting supplier, using them exclusively on this project – as well as many previous events. "I'm very happy with ADJ," enthused Adje, "The fixtures are good, both in terms of quality and price. I've owned and used hundreds of ADJ fixtures over the years and experienced very few malfunctions. However, the service from Kerkrade [ADJ's European Headquarters] is also very good and the people there are very nice, so if I do ever have a problems they will quickly solve it. Because they are so reliable, I've also found the resale value of ADJ fixtures to be very high."
Not only is Adje happy with his choice of ADJ lighting equipment, the organisers of Insight Beach Brabant were very pleased with how the fixtures pumped up the atmosphere of their pop-up beach club. While everyone hopes that nightclubs, festivals, concerts and events will be back to normal next year, Insight Beach Brabant provided a much-needed open-air social venue that helped the party people of Eindhoven get through the challenging summer of 2020.