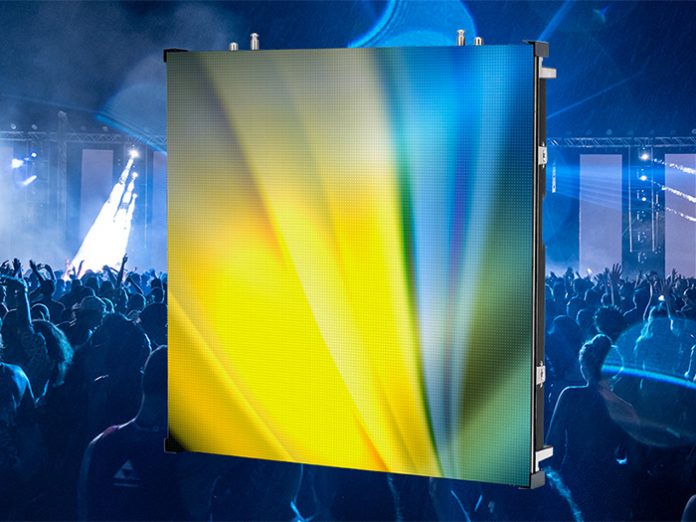 ADJ has expanded its popular Vision Series of LED video panels with the introduction of the new VS3IP. Ideal for concert tours, festivals and other events – taking place both inside and outside – the new product is ADJ's highest resolution IP-rated LED video panel to date. Combining excellent image quality with a larger panel size, high brightness and useful features, it also offers the trifecta of good value, outstanding build quality and dependable reliability that is the foundation of the ADJ brand.
The VS3IP panel features a 150 by 150 matrix of 3-in-1 SMD1921 LEDs, delivering a pixel pitch of 3.84mm (0.15") for a pixel density of 67,816 per square meter. It delivers an impressive maximum brightness of 4500 NITS with a contrast ratio of 5000:1, making it suitable for use outdoors, even during daylight hours. However, it also offers 0~100% brightness adjustment allowing the output to be reduced when required, for example for smaller indoor applications or to ensure that video content doesn't overpower lighting fixtures and on-stage content when used as a backdrop.
Specifically designed for temporary outdoor use, the panel features protection of its front surface from liquid and particles rated to the IP65 standard. The rear panel, meanwhile, has an IP54 rating and the unit is fitted with IP65-rated locking sockets for power and data (RJ45). The input and thru connections for both are also fitted with rubber caps which provide added protection during transit and also if a thru socket is not in use for a particular deployment.
An impressive viewing angle of 160° horizontal and 140° vertical (@ 3m / 9.75 ft.) can be further enhanced when required using the optional angling feature. It allows the panels to be joined together at either a concave or convex angle of 3 or 6 degrees. This means that curving LED video screens can be constructed that allow better viewing for audience members positioned to the side of a stage or to fit with the contours of a curved stage set or venue design.
The VS3IP produces a high refresh rate of 3,840Hz and features MOM (Memory On Module) technology, which allows calibration coefficients to be stored in the flash memory of the receiving card. This is a powerful Nova Star A5S, which can be driven from a choice of Novastar video processors. These range from the simple and affordable MCTRL-300 to the feature-packed and powerful NOVAPRO HD. Whichever processor is chosen, the panels connect to the RJ45 output port(s) using standard locking ethernet cables while a video signal can be input using standard DVI and/or HDMI connections.
The panel's quick lock system makes setting up a large video wall as quick and straightforward as possible. Locator pins on the top side make it simple to get the panel in exactly the right position, while easy to activate locking pins then secure it in place. Additional locking pins on the side ensure adjacent panels are also firmly joined together to create a seamless finish. The panel is fitted with a pair of rear carry handles that are designed to make it easy to lift it up and slot it into the unit above during installation.
Weighing in at 19.84 lbs. / 9kg., the panel is easily manageable and it is fitted with retractable corner protectors that fold out from the back of the unit to keep the corners safe from knocks during transportation, setup and teardown. The low profile panel has measurements of 576mm by 576mm by 76.8mm and can run on any voltage between 100 and 240V (50-60Hz), making it suitable for international touring duties. It has a maximum power consumption of 210W per panel and an average operating power consumption of 84W per panel.
As with other models in the Vision Series, each VS3IP panel is divided down into four easy to replace mini panel modules, which allows for easy serviceability. This means that in the unlikely event that a pixel fault should occur only one of the four mini modules needs to be replaced and returned for repair, not the whole panel. In addition, the model also features a quick-release power supply / receiving card module, should that ever need to be replaced.
To complement the new panel model, the Vision Series also includes a variety of rigging hardware and other accessories. The VS3IPRB1 is a dedicated rigging bar for the VS3IP which can be used to vertically hang up to 20 panels or ground stack up to 8. Alternatively, when ground-stacking a wall, the VS3IP should also be used with the existing VSRQR Quick Rig device. This locks into a dedicated socket on the rear of the panel and can then fasten to any standard 2" pipe or truss, which helps stabilize the wall from tipping over. Finally, the VS31PRSB can be used to install an arrangement of panels as part of a permanent fixed installation, which will help to ensure a seamless finish. The VS3IP is also ETL listed, which is essential for installation projects in many areas of the United States.
"When it was first announced at LDI 2019, the Vision Series was hotly-anticipated by many of our customers and when the first models began to ship it proved equally popular," commented ADJ USA's National Sales Manager, Alfred Gonzales. "Therefore we're excited to be able to introduce the latest addition to the Vision Series family. As our highest resolution IP-rated LED video panel, the VS3IP is ideal for production and rental companies looking for a versatile solution. It can be used both indoors and outdoors, is easy and flexible to rig, and has the necessary pixel pitch for a close-seated audience as well as the brightness and contrast to be clearly visible from a great distance. As an IP-rated addition to the Vision Series, the VS3IP has a larger panel size and therefore can't join to the other non-IP Vision Series panels, but it does inherit the traits of versatility and value that made the existing products in the range so popular."