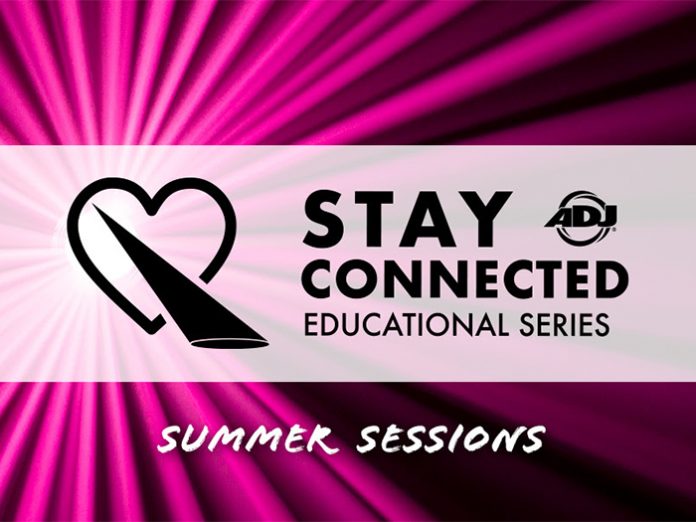 When the coronavirus pandemic first hit earlier this year, ADJ began to broadcast regular Facebook Live videos to stay connected with customers through educational content and in-depth product overviews. These proved popular, so – even as the world slowly begins to open back up and cautiously return to normal – the ADJ team has planned a series of further 'Stay Connected' videos to run over the summer.
Hosted from ADJ's Los Angeles HQ by members of the company's in-house team of technical experts, each of the new Stay Connected video broadcasts will focus on a different lighting technology or application. The presenters will showcase the latest ADJ products, explain their features and discuss ways in which they can be creatively deployed. Broadcast via Facebook Live, the videos will also feature interactive elements allowing viewers to ask questions directly to the product specialists on camera.
"Every day, I am hearing more positive stories from lighting professionals who are being able to get back out there and work in the business that we all love," comments ADJ USA's National Sales Manager, Alfred Gonzales. "However, there is still a long way to go until things are fully back to normal, so here at ADJ we want to continue to stay connected with our customers and users by continuing our series of Facebook Live videos throughout the summer. Each session will focus in on a different area of our product range, giving viewers in-depth insights and lots of valuable practical tips and ideas."
Tuesday, July 14th – 12pm – ADJ's New Pixie Strips Powered By Kling-Net (with Corey Saenz)
ADJ's Video Specialist, Corey Saenz, will showcase the new ADJ Pixie Strip Series of pixel battens, which combine vibrant LEDs with intelligently-designed housings to create a powerful and versatile system. In the Live video presentation, Corey will go over the various products that make up the Pixie Strip Series and also explain how they can be combined together, setup and configured for pixel-mapping with Kling-Net.
Thursday, July 16th – 12pm – MyDMX Products (with Jake Rhodes)
In this informative Live video, ADJ's Product Specialist, Jake Rhodes, will introduce the powerful and easy to use myDMX range of DMX software control solutions. As well as the flagship myDMX 3.0 software, Jake will also discuss the various hardware dongles in the range, including the myDMX RM 19" rack-mountable unit that can be setup for standalone operation with up to 16 pre-set lighting scenes.
Wednesday, July 22nd – 3pm – DMX Solutions From Eliminator (with Edgar Bernal)
Join ADJ Regional Sales Manager Edgar Bernal as he explores the easy and affordable DMX solutions available from ADJ's sister brand Eliminator Lighting.
Tuesday, July 28th – 12pm – Stage Lighting Solutions (with Jake Rhodes)
With a background in theatrical lighting, ADJ's Product Specialist, Jake Rhodes, is the ideal person to host this session focusing on ADJ's recently-expanded range of LED-powered lighting products designed for use in theatres. During the video, Jake will give detailed information on the Par Z100 3K and Par Z120 RGBW par cans as well as ADJ's new Encore Profile Pro ellipsoidals and powerful new FS3000LED follow spot.
Thursday, July 30th – 12pm – Spotlight on the Focus Series (with Edgar Bernal)
ADJ's popular Focus Series of LED-powered and feature-packed moving head spot fixtures has recently been expanded with the addition of three new models. In this video, ADJ Regional Sales Manager, Edgar Bernal, will demonstrate the Focus Spot 4Z, Focus Spot 5Z and Focus Spot 6Z, explaining the differences between them and their potential applications.
Wednesday, August 5th – 3pm – The Avante Audio Range (with Chuck Green)
ADJ's sister brand, Avante Audio, offers a variety of active speaker products that are high quality, yet affordably-priced. In this Live video, Avante Audio's Sales Manager, Chuck Green, will review the complete line-up, explaining the features of each model and discussing how they might best be used.
Tuesday, August 11th – 12pm – Wireless DMX with the Airstream DMX Bridge (with Jake Rhodes)
In this Live video deep dive, ADJ's Product Specialist, Jake Rhodes, will explain how the ADJ Airstream DMX Bridge hardware and Air Stream DMX apps can be used to control lighting wirelessly from an iPad. Jake will take viewers step-by-step through the setup of a WiFLY DMX system and configuration of the Airstream DMX Bridge and then provide an overview of the powerful Air Stream DMX and Air Stream DMX Pro lighting control apps.
Thursday, August 13th – 12pm – Capture Techniques (with Edgar Bernal)
Following the popularity of his video workshop in May, Edgar Bernal will once again showcase the Capture software for lighting design, documentation and visualization. In this advanced session, Edgar will share tips and techniques to help viewers make full use of everything this powerful software solution has to offer.
Tuesday, August 18th– 12pm – Under The Hood: Entour Chill (with Chuck Green)
The new Entour Chill uses ADJ Kool Fog juice and regular cubed ice to generate a dramatic low-lying fog effect without the hassle or expense of dry ice. In the latest installment of this popular series of light-hearted product videos, Chuck Green will dismantle an Entour Chill to show how it works.