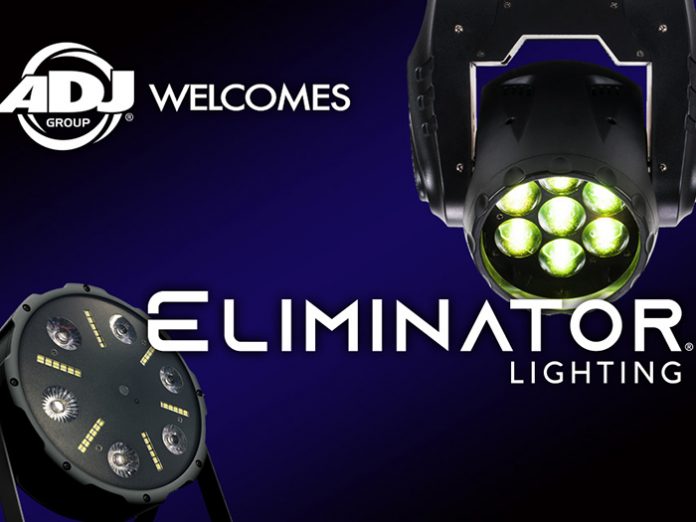 A well-established brand supplying affordable lighting and effects equipment to the DJ and club market for over fifteen years, Eliminator Lighting has an extensive product catalogue that includes LED pars, moving heads and free-standing illuminated letters as well as fog and bubble machines. ADJ dealers will now be able to purchase these products alongside equipment from ADJ Lighting, American Audio and Avante Audio, allowing for consolidated orders to minimise shipping costs.
Eliminator Lighting's long-serving Product Manager, Albert Paredes, will stay with the company ensuring continued excellent customer service for both existing Eliminator dealers and those who choose to stock the line for the first time now that it is available through ADJ distribution. Paredes has extensive experience in the lighting industry and is no stranger to ADJ, having worked in the company's Service Department for many years prior to moving to Eliminator.
To welcome Eliminator Lighting to its new home at ADJ Products LLC it is to be re-branded with a sleek new logo. New products will continue to be added to the brand's catalogue, continuing its focus on providing affordable lighting and special effect products to event professionals that offer unbeatable value.
Commenting on the acquisition, President of the ADJ Group of Companies Toby Velazquez said: "This is an exciting development for ADJ Products LLC as Eliminator Lighting has a great range of value DJ products that fit into our diverse network of customers. It also means that the ADJ Group's product catalogue now covers every type of application and budget; ranging from Eliminator Lighting at entry level, to ADJ covering the mid-market and Elation Professional serving top-end theatrical and touring productions."
Eliminator Lighting will be distributed throughout the United States and Mexico from ADJ USA and ADJ Mexico. The product range offers a 1-year limited warranty. Users will now be able to contact ADJ's helpful customer support centre with product questions.
The Eliminator range of lighting and effects equipment is available from ADJ Products LLC now and will be displayed on booth #11941 at the up-coming NAMM trade show in Anaheim, CA taking place January 24-27.