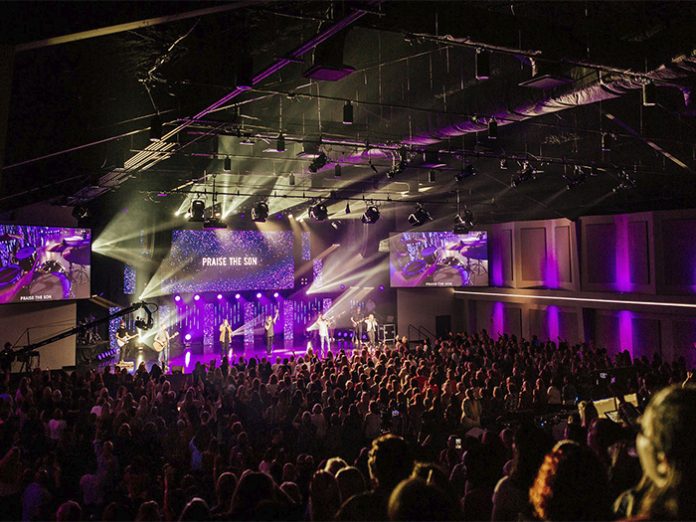 Winter Park, Florida is the newest location for fast-growing Action Church, a worship community in the Orlando area that also has churches in the suburbs of Oviedo, Sanford and South Orlando. The church experienced a startling 150-plus-percent growth between 2017 and 2018, less than four years after it was founded, catapulting it to the number-two position in Outreach magazine's top 100 fastest-growing churches last year.
The Winter Park campus has the distinction of being dubbed the church's broadcast site, from which Pastor Justin Dailey preaches the church's Sunday message each week. As such, that location is Action Church's technology showcase, and its renovation from being a former Masonic Lodge in 2018 to becoming Action Church's flagship reflects that, with state-of-the-art audio, video and lighting technology throughout. That extends to the two KLANG:fabrik immersive IEM mixing systems installed there by Parrish, Florida-based HOW integration specialist Crown Design Group as part of the first phase of the venue's renovation.
"We designed, installed and commissioned all of the technology at this location, their largest campus, and they wanted it to be the most high-tech of all of them," said Crown Design Group Co-owner Garrett Walker, a fact underscored by his company's installation there of a touring rider-friendly L-Acoustics Kara loudspeaker system. "They often have a lot of musicians onstage at once, and the lineup can change frequently, so we recommended that they use the KLANG systems, and they agreed. These are the most flexible, easiest-to-use in-ear monitoring solutions on the market today."
Walker says that the church required an IEM solution that could scale as their onstage needs changed, and also interface seamlessly with other systems and platforms they would use, most notably Dante, which is the network backbone for the church's audio.
"The KLANG systems' compatibility with Dante was a key factor in their choice," he said, as was the systems' ability to be operated via an iPhone or Android app. "That was very important, because while their front-of-house console can use an iPad app for remote control, not everyone has an iPad or tablet, but almost everyone has an iPhone or Android phone," he explained.
Action Church Experience Director John Williams says that although the KLANG system is certainly a hit with their worship team, the savings that it provides in terms of additional gear and operator manpower is another big plus. "KLANG provides us with the flexibility and audio intelligibility that our musicians and vocalists absolutely love," he said. "But I personally think the biggest benefit is being able to offer quality, personal mixes on the platform without having a monitor console and an additional engineer to run it."
The ubiquity of smartphones and the availability of the free KLANG:app sealed the deal, Walker adds. "And that really adds to the KLANG systems' ease of use," he added. "Once we programmed the system, musicians and vocalists can have separate groups for the monitors, which makes it much easier to manage all of the channels needed for a large group on stage. And the quality of the immersive sound is exceptional. So in terms of fidelity and operational ease, the KLANG systems win on all counts for the church. And, as integrators, the fact that it interfaces with so many other key systems makes it a great solution for us. That's why we now recommend it to all of our clients."