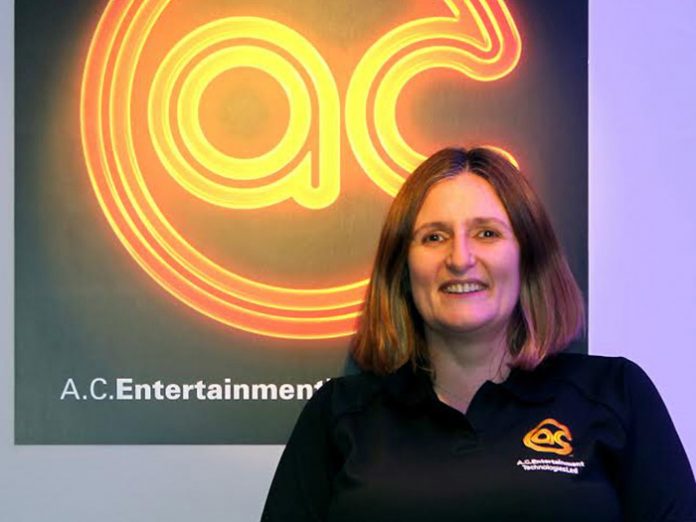 AC Entertainment Technologies announced the recent appointment of industry figure, Karen Fairlie in the newly created role of Business Development Manager for Scotland.
Karen brings a wealth of local market knowledge and experience to the position, having forged strong relationships with customers and suppliers in Scotland over the past 20 years whilst working in sales management and various support roles.
A well-known figure in the scottish theatre market, Karen has overseen the supply of leading entertainment technology systems to designers, specifiers, venues, rental and production companies. She has also worked on high-profile projects in the film ang TV and public services markets.
Karen is based in the field, with support from AC Entertainment Technologies Leeds office, and will work alongside the company's sales, marketing and purchasing departments to develop and implement the companies business plan for the Scottish market.
She will be responsible for helping to raise customer awareness of the companies extensive one stop shop of over 200 technology brands, with particular emphasis on promoting and increasing the market share of the companies many UK-exclusive marques. These include Chroma-Q, Spotlight, Fiilex, Mole-Richardson, ProLights and GLP LED lighting for film & TV, entertainment, and architectural applications; Jands Vista lighting and media control solutions; LumenRadio wireless lighting control and Luminex high performance networking products; Columbus McKinnon Entertainment Lodestar chain hoists; BroadWeigh wireless load monitoring systems; Green Hippo Hippotizer realtime media control servers; and Dynamic Audio Device loudspeakers for various applications.
Karen will also raise awareness of AC Entertainment Technologies complementary in-house Cable, Lamp and Gel Express services, which are primed for fast turnaround of custom specified and popular off-the-shelf consumables.
Purchasing Director, Jonathan Walters, commented: "I'm delighted to welcome Karen to the company. She has invaluable local knowledge and experience of the Scottish market, so is ideally placed to develop our growth plans for this territory, and will enable us to provide customers in this region with first-class product expertise and support."
Karen commented: "I have known of AC Entertainmet Technologies for many years, and have existing relationships with some of their key suppliers, so it's a very exciting challenge for me to be given the remit of developing the company's business in the Scottish region, and to really get the company's name out there. The sales support offered by AC Entertainment Technologies dedicated product sales divisions and Technical staff is exceptional – they really add value and enable the company to provide a very high level of pre and after-sales support to customers, for their peace of mind."
Karen will be present on the AC Entertainment Technologies stand (B1), at PLASA Focus Glasgow, UK, 20 – 21 January 2016, to demonstrate and discuss some of the latest innovations available from the company's portfolio of leading brands.