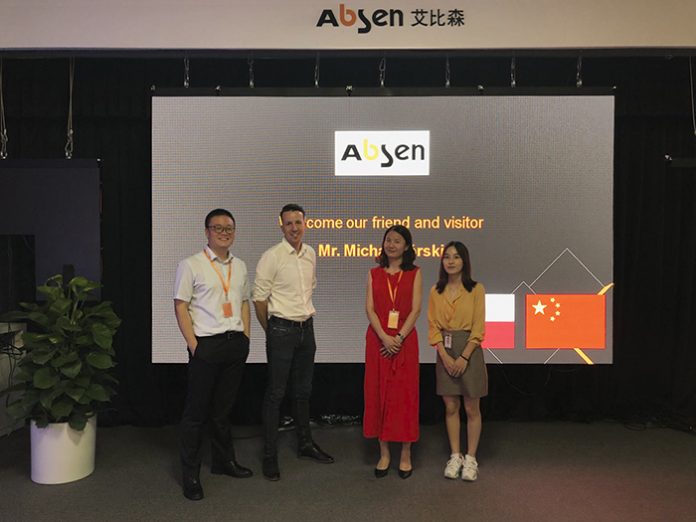 Absen has signed a partnership agreement with SQM as the company's official distributor in Poland. SQM will have exclusive rights over the sale and distribution of the Aries AX1.5, the world's first MiniLED rental display, in the Polish rental staging market.
Headquartered in Poznan, Poland, SQM provides multimedia and audio-visual rental services for trade fairs, conferences and events across Europe. The company has recently added over 100 sqm of Absen's AX1.5 product – part of the Aries MiniLED rental series – to its inventory, making it one of the few partners to be able to offer rental customers such a high-quality 1.5mm fine pitch LED display.
Absen's Aries LED display series is aimed at professional rental companies for high-end corporate events, conferences, auto shows, e-gaming competitions and broadcast applications, and is the first MiniLED product to combine a 4-in-1 integrated pixel design and Common Cathode technology. Packed with the latest innovations, the AX1.5 provides the highest level of detail, as well as providing 2.5 times the strength of traditional LED screens and consuming 20% less power.
"Quality is the most important factor for us and the AX1.5 certainly delivers on so many levels," said Michal Górski, CEO at SQM. "After visiting Absen's manufacturing base in China and witness-testing the product ourselves, we can confidently say that the AX1.5 is the best 1.5mm rental display on the market right now so we are thrilled to be able to be offer it to our European customers."
Maya Shu, Regional Sales Manager for Absen Poland, commented: "We are excited to have SQM as our distribution partner and are looking forward to working closely with them on opportunities the region. SQM are a forward-thinking company with an excellent reputation for quality and service, so we are confident they will strengthen Absen's position as the go-to provider of LED displays in Poland."
As the exclusive Value Added Distributor of the AX1.5 in Poland, customers will benefit from an enhanced level of support including training and demonstrations, responsive sales and technical support, fast delivery and local support.