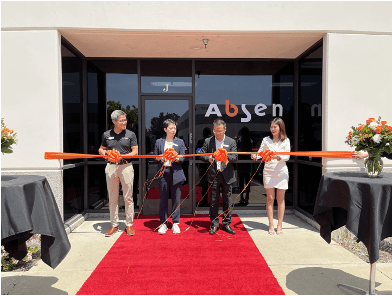 Absen has opened its new West Coast Office in Walnut, CA, just outside Los Angeles.
This strategic move allows Absen to cater to the growing demands of customers in the western United States with enhanced speed and personalised services.
As the second-largest city in the United States, Los Angeles is renowned for its entertainment industry and is also a hub for the petrochemical, ocean, aerospace, and electronics sectors.
The inauguration of the Los Angeles office signifies Absen's commitment to expanding its presence in the United States and delivering exceptional service to its valued customers.
Moreover, it serves as a testament to Absen's dedication to continuously meet and exceed industry demands.
A highlight of the Los Angeles office is the state-of-the-art Absen Experience Center, which showcases Absen's cutting-edge LED display solutions across various sectors such as virtual production, rental & staging, and commercial display.
Visitors can immerse themselves in the remarkable visual experience created by Absen's award-winning products, including the prestigious iF Award and Red Dot Award-winning PR series, along with the flip-chip COB product CL series.
At the opening ceremony, esteemed local partners and customer representatives were invited to witness firsthand the unparalleled display effects and superior quality of Absen products.
In addition to the West Coast expansion, Absen has announced the inauguration of a showroom in Coppell, TX, made possible through a collaborative effort with its esteemed partners, Hall Technologies.
This showroom, featuring Absenicon and Naked-eye 3D display solutions, provides a unique opportunity for visitors from the Midwest region to explore Absen's latest technological advancements and engage with industry experts in real time.
The overwhelming success of the showroom has allowed both customers and experts to gain invaluable insights into Absen's innovative products and comprehensive solutions.
Absen's commitment to customer satisfaction is further exemplified by the Orlando Experience Center, located at Absen's North America headquarters.
Established in 2015, this cutting-edge facility offers customers a hands-on experience with Absen's latest technologies.
At the Experience Center, visitors can enjoy product demonstrations, receive expert technical support, and delve deeper into the vast possibilities offered by Absen's LED display solutions.
James Liu, President of Absen Inc., expressed his excitement about bringing Absen's groundbreaking technology and solutions closer to customers through the new West Coast Office
Liu stated: "We believe that the new office and these experience centres will enable our customers to immerse themselves in the unparalleled quality of our products while receiving expert guidance to find the perfect solution for their specific needs."
In the rapidly evolving landscape of global LED display screens, Absen remains at the forefront, continuously monitoring market trends, and fostering open communication and collaboration with customers and partners worldwide.
This approach allows Absen to deliver cutting-edge products, efficient services, and seamless experiences while expanding its presence in the market.
Absen extends a warm invitation to all individuals seeking to discover the marvels of the Absen Experience Centers located in Orlando, FL, Dallas, TX, and Walnut, CA.