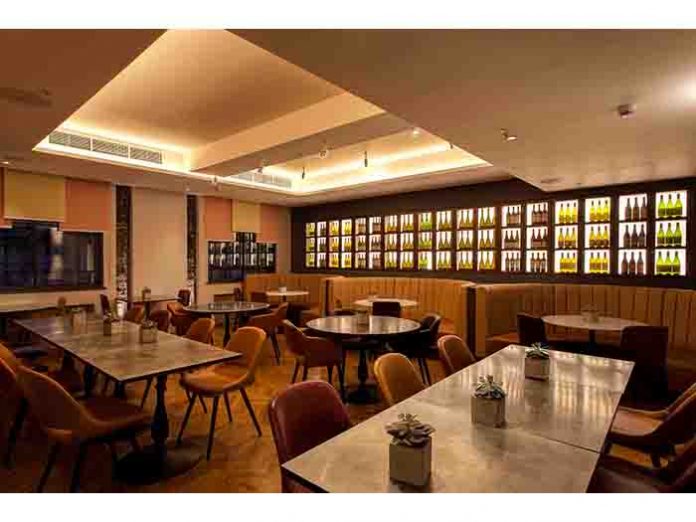 A.C. Special Projects (AC-SP) assisted Hoare Lea in bringing its dynamic lighting scheme to life for etc.venues' 68,000 sq ft multi-use event space inside the iconic London County Hall – providing an e:cue control system to meet the venue's bespoke needs.
AC-SP Project Manager, Chris Little attended numerous site meetings with Hoare Lea, the venue and the electrical contractor, to discuss the site's bespoke control requirements. He then designed the end-to-end e:cue system, programmed and commissioned it to deliver the dynamic lighting design.
Various DALI fittings throughout the venue are controlled on each floor by an e:cue ETH2DALI. e:cue Butler XT2s are used to relay information from partition switches to the e:cue system and control DMX lighting in the re-configurable suites, so it can be adjusted according to the actual room configuration.
e:cue Glass Touch 6 panels provide staff with simple operation of the lighting according to the room configuration. AC-SP programmed each room panel with a specific range of preset white and coloured static lighting looks based on Hoare Lea's lighting design, to provide the venue with a choice of looks and adjustment options to enable them to tailor the lighting for specific types of client events held in each space. Each room's lighting can also be controlled remotely on e:cue's Action Pad app loaded onto Apple iPad tablets.
As well as overseeing the project's lighting control system and liaising with Hoare Lea, the venue and the electrical contractor, AC-SP produced in-depth DALI Bus Layout, DMX and wiring diagrams, and supplied the e:cue system control racks pre-built and wired to connect on-site with the diagrams, to assist the contractor with the installation.
etc.venues County Hall's head of design, Franck Rosello commented: "We like to add value to our clients by offering them built-in advanced features such as dimmable and colour changing lighting that can be the backdrop to a brand – turning any event into a memorable experience. A.C. Special Projects delivered the perfect technical solution to meet ours and Hoare Lea's particular requirements. The County Hall lighting system has been extremely well received by our client base and there is no doubt in my mind that it has helped to reinforce the building's position as one of London's leading premium corporate event spaces, with the technology to match."
Hoare Lea's lighting designer, Brad Joseph commented: "Conference centres can be utilitarian spaces, geared towards footfall rather than human experience. Our brief for County Hall was to challenge this norm, providing cohesive spaces with a hospitality feel. Hoare Lea's lighting design narrative, which focuses on historical appreciation, colour and texture, demonstrates how light can create impressive spaces, rich in visual depth and mood, and with the required flexibility. A.C. Special Projects provided an elegant bespoke e:cue control system meeting the venue's multi-layered, technically challenging lighting requirements. Their solution delivers our lighting design with the perfect level of functionality, flexibility and simplicity our client needed. The support throughout the project from them has been excellent."
AC-SP's project manager, Chris Little commented: "It was a pleasure to work with Hoare Lea and etc.venues on this prestigious project. The e:cue system was ideal for the venues' technically demanding lighting requirements, providing a huge amount of creative flexibility and simple control."