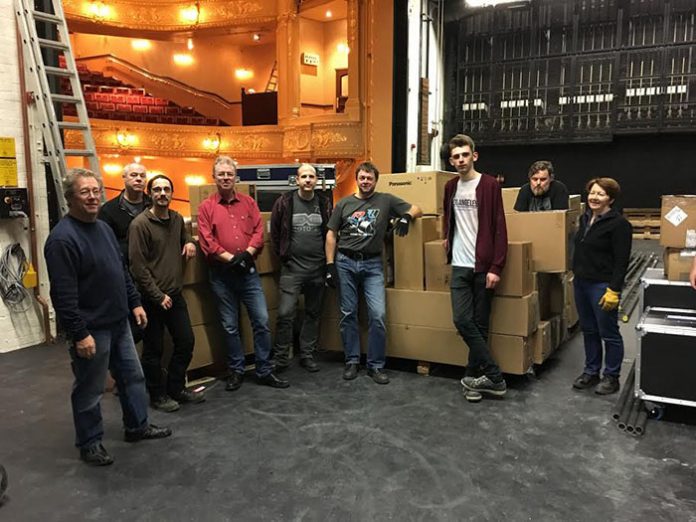 The newly opened Darlington Hippodrome, a historic Edwardian theatre in North-East England formerly known as Darlington Civic Theatre, has been restored to its former glory and transformed with 21st century technical facilities which include new stage lighting, audio and video systems. Featuring leading brands including Chroma-Q, Allen & Heath, Panasonic and many more, the majority of loose equipment was supplied by one-stop distributor, A.C. Entertainment Technologies Ltd (AC-ET).
The theatre received a £5m grant from the Heritage Lottery Fund (HLF) towards the ambitious £13.7m project to regenerate and upgrade the venue, which also included restoring the exterior of the distinctive Grade II Listed building and the beautiful Edwardian auditorium inside. In addition, seating capacity has been increased to enable larger shows to be accommodated as part of an expanded artistic programme.
Darlington Hippodrome is also managing the newly built Theatre Hullabaloo, a separate £2.9m project to create an adjacent flagship children's theatre venue. This was made possible in part by the venue receiving a £1.5m grant from the Arts Council England (ACE) in partnership with Darlington BoroughCouncil, who committed £800,000.
When Darlington Hippodrome's Technical Manager, Steve Sanderson needed to equip both venues' facilities, having previously purchased from AC-ET, he approached them to tender for the supply of various entertainment technologies.
Sales executive, Ben Steppenbeck of AC-ET's specialist lighting division recommended a number of options that would best meet the venues' technical requirements. In addition, the company's separate rigging, audio and video sales divisions recommended equipment options for their product disciplines.
Steve awarded the supply contract to AC-ET, based on the overall level of service he received during the tender process, including product advice, demos and competitive pricing.
From AC-ET's huge UK stockholding in High Wycombe and Leeds warehouses, the company supplied 273 separate pieces of equipment, consisting of 45 different types of products and accessories – with the selected brands chosen from a portfolio of over 200.
Key lighting, audio and video system components supplied included Chroma-Q Colour Force II 72 colour-mixing LED cyc light battens and ETC Source Four luminaires; Allen & Heath dLive digital mixing consoles and Yamaha power amplification; plus a Panasonic PT-DW750 DLP projector and Draper UFS front projection screen. Once installed, AC-ET also assisted with product training on the new systems.
Darlington Hippodrome's Technical Manager, Steve commented: "We're really pleased with the equipment and service we received from A.C. Their product specialists made some great recommendations and were very helpful throughout the project. To purchase so many items from the same supplier and people with excellent product knowledge, was hugely convenient. Everyone is very pleased with the equipment."
AC-ET's Ben commented: "It was an absolute pleasure to work with the venue. We wanted to ensure that Darlington Hippodrome got the very latest equipment available that would best meet their technical requirements, to befit the venue's goal of providing 21st century facilities to its audiences and touring productions. It is now one of the best equipped performance theatres in the North of England and we wish them a very successful re-launch."
Contact the company now to discuss how AC-ET can help you achieve your aspirations, on +44(0)1494 446000 / sales@ac-et.com, or visit www.ac-et.com.
Keep up to date with the latest AC-ET news via their social network pages:

About A.C. Entertainment Technologies
Based 30 miles to the west of London, UK, the "A.C. Group" was founded in the early 1970's by David Leggett and the late Richard Floyd. A.C. Entertainment Technologies Ltd. is one of the largest European distributors of professional lighting, audio, rigging, video and associated equipment to the entertainment industry, supplying customers located throughout the World. The corporate headquarters, housing UK and International sales, demonstration, manufacturing, repair and substantial warehouse operation are located in High Wycombe, Buckinghamshire. The company also has a Northern Region sales office with additional demonstration and warehouse facilities located in Leeds, West Yorkshire. In addition, the Group has a separate projects company, A.C. Special Projects Ltd, and sales, manufacturing and warehousing operations in Europe, North America and Asia.