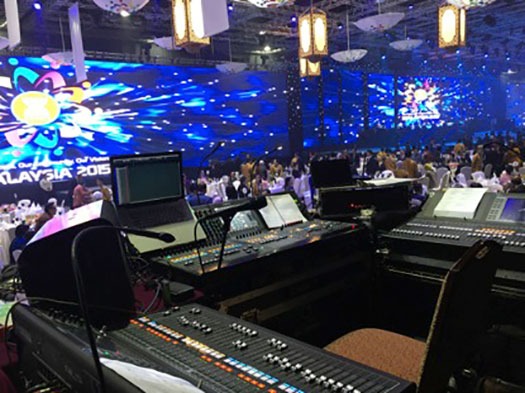 On 21 November 2015, world leaders dined with ASEAN leaders and their dialogue partners at the ASEAN Summit Gala Dinner held in Kuala Lumpur, Malaysia.
Provided by the venue's authorised sound and lighting rental companies, the audio system for the event was designed by Absolute Technical Solutions.
The brief for the audio system was clear, it had to be failure-proof and maintain the highest possible audio quality, clarity and reliability for the 1,500 VIP guests, as well as more than 600 performers and musicians. To achieve this, Absolute Technical Solutions, chose Yamaha CL and QL series consoles, because they can operate with full redundancy, Yamaha technology is well-known for its reliability and delivers the most natural sounding consoles. The inbuilt Premium Rack processing and Dan Dugan, Automatic Mixer, were also essential tools for the event. "The flexibility of the Dante network, virtual soundcheck and easy Gain Compensation capabilities also reinforced our decision to choosing Yamaha consoles," said Absolute Technical Solutions', Simon Khoo .
He continued: "We needed the virtual soundcheck feature as time allocated was limited, due to the controlled noise level imposed at the venue and other ongoing setup activities, such as stage building and decoration. The Gain Compensation also saved us a lot time and manpower by eliminating the need to line check individual consoles."
A total of 184 input mixing channels were needed for the performances, which included the 60-piece National Symphony Orchestra performing with Permata Seni, a youth programme for talented musicians under the patron of the Prime Minister's wife, and backed by renowned composer/arranger Aubrey Suwito and his band. A 100-member National Choir with the Permata Seni Choir, as well as popular local and ASEAN singers also performed.
"We had a total of nine Yamaha Consoles – five CL5 and four QL5, with seven Rio3224-D and one Rio1608-D i/o units," said Simon. "The Dante network system was connected using Yamaha SWX2200-8G gigabyte switches."
FoH sound was mixed by Simon on two QL5s and a CL5, monitors were mixed by Zashrill on two CL5s and a QL5, while the broadcast mix was done by renowned studio engineer Peter Chong on two CL5s and a QL5.
"With over 30 cues between performances and multiple scene changes during the 2½ hour show, the Yamaha system gave us the confidence and ease-of-mind working without any problems or worries," said Simon.
"The FOH loudspeaker system was designed for the audience to experience very comfortable listening levels. It had to accommodate a very wide and narrow seating arrangement, so we decided to use a combination of Nexo PS15 and Yamaha DSR112 speakers for the main system. Yamaha DSR112 were also deployed as stage monitors for the dancers and choir, while an Aviom system of wireless in-ear monitors was provided for the performers and musicians."
The flexibility of the CL and QL-series outputs allowed the monitor consoles to be cascaded, providing 32 main mixes while maintaining independent mixes on each console. "We were also able to decide which mix stayed at the dedicated console and which mix was cascaded," said Simon.
He concluded: "The event was a success and went without a hitch, thanks to the Yamaha solution. Both the venue operator and client were also pleasantly surprised with the ease and time taken for the setup and sound check."